I have a gold rope necklace that is 14k gold. It weighs 1.176717 standard ounces. What is the value of this necklace if sold for the melt value? Thanks from Lee in Yakima, Washington.
Hi Lee,
Thank you for your question. We would recommend starting with our gold value calculator. You can easily plug in the type, weight, purity and daily gold price to find the market value of your gold. Keep in mind that no matter where you sell, the buyer will take out certain fees associated with having to either process or refine the gold. Some gold buyers that are not refiners typically need to take more of a percentage because they are not the end seller of the gold. They need to work with precious metal refiners such as Arch that can recover the gold from items.
See the screen shot below. We used the daily gold price of $1,576.90. As a precious metal refiner, we could pay a return of 85% of the gold value back to you, that our rate for 1-2 fine ounces of pure gold.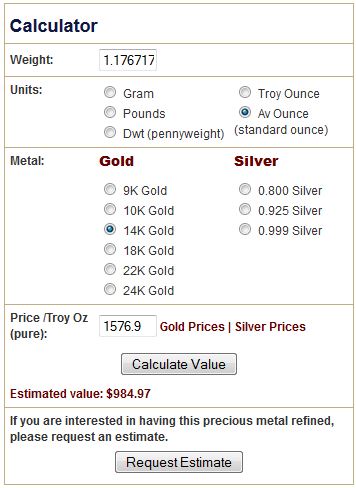 Hope that helps you!
*This price may not reflect the current price of silver when this blog entry was posted. The output from the calculator is not a confirmation of the purchase price from Arch Enterprises.