How much can i sell my 18 karat gold bracelet with the stamp 750 that weighs 52 grams for? Thanks! — From Cory in Seattle, WA
Hi Cory,
This is a great question to plug into our gold conversion calculator. This is because there are a few calculations that you have to do before knowing what your gold is worth.
You first have to convert the weight of gold jewelry into troy ounces without any other gems or stones. That is the unit of measurement used for precious metals.
Then you have to use the current price of gold and multiply it to how much actual gold you have. With your bracelet being 18 Karat, your piece is 74.88% gold. The stamp on your bracelet 750 indicates that it is 18 Karat gold that is about 75% pure gold.
Your 52 grams converts into 1.67183 troy ounces. According to our payout schedule we would offer you about 85% of the pure gold value. For larger lots we can sometimes offer over 90% of the gold value.
Note that the calculator provides an approximate value for the amount of fine (or pure) gold or in your item. It does not factor in intrinsic value that may apply to rare collectibles and coins or branded jewelry.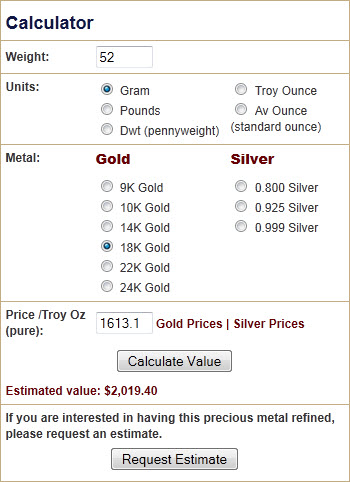 *Price of gold used in this calculation may not reflect the current price of gold as it changes daily.
Thanks for your question. Here are some other blog posts that might help you in finding the value of your gold bracelet.
*Image displayed is only a representation of the items described in this blog post and may not be true images of the items in question.